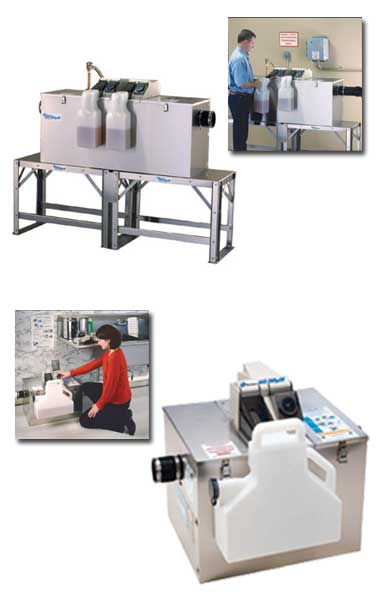 The Drain-Net Big Dipper Automatic Grease and Oils Removal System removes free-floating (non-emulsified) grease & oils from kitchen drain water flows. Grease buildup within a building's plumbing drainage system is a major cause of problems due to drain line blockages. These problems jeopardize normal operations as well as create health and safety hazards within the facility itself. Proper installation of a Big Dipper System can reduce or eliminate grease problems. Use of the Big Dipper assures minimization and/or elimination of costly sewer surcharges and fines through efficient separation and removal of free-floating grease & oils. In addition, the Big Dipper also helps reduce or eliminate pumping and disposal costs associated with conventional grease traps or interceptors. The recovered grease & oils are substantially water-free and are suitable for recycling by local rendering and/or biodiesel companies.
The Big Dipper Internal Strainer (IS) series units utilize an internal strainer basket to capture incidental solids in kitchen waste water flows. A skimming wheel system inside the unit skims the grease & oils out of the retention area when activated by a programmable timer. IS units work well inside fast food-type restaurants or food preparation facilities where grease removal directly at the source is important. Big Dipper IS Point Source Grease Removal Units treat kitchen flows of 15 to 50 gallons per minute. There are also larger Grease Removal Units in the IS category that pretreat wastewater flows of 75 and 125 gallons per minute.
What size Automatic Grease Trap do I need?
Click here to view the Big Dipper Automatic Grease Trap for single and multiple fixtures
---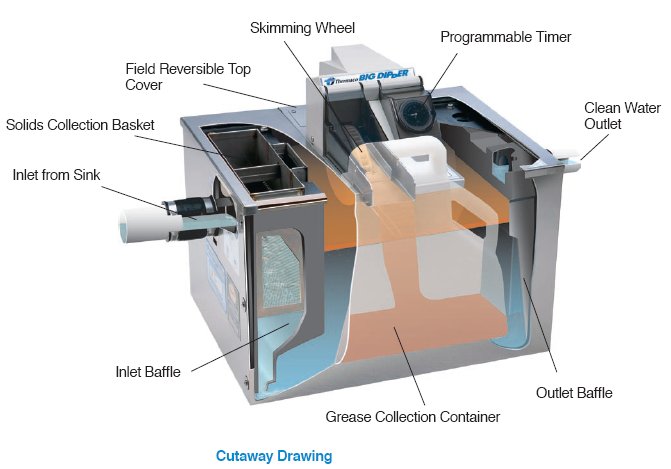 See how simple it is to maintain the Big Dipper!