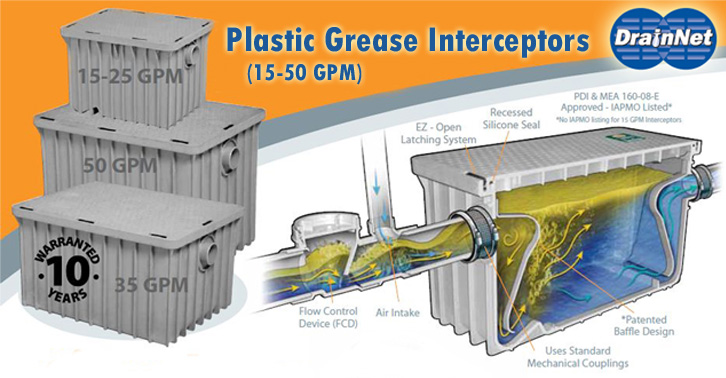 The Drain-Net grease Interceptor is injection molded in engineered copolymer thermoplastics which lowers your operating cost and results in guaranteed longer life. The seamless, leakproof construction ensures that the grease trap will last, even under the most extreme applications.  Able to withstand continuous use operating temperatures of 220 Deg. F (104 Deg. C), the grease trap handles the demanding conditions of any commercial kitchen.
Quick and Easy to Clean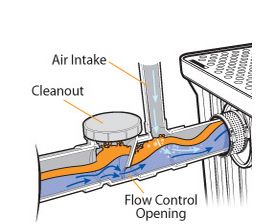 Rather than traditional screw or bolt down cover connections, Drain-Net's new Quick-Connect latching system, enables the operator to remove the lid with ease. Removable baffles combined with a smooth interior surface make cleaning quick and easy. Easy access provides less downtime and cost savings.
Airtight Seal to Contain Offensive Odors
The premium silicone foam gasket provides an airtight seal between the cover and tank, reducing the chance of liquids, solids or offensive odors from polluting the workplace. Sealing medium is installed in a channel, deep within the lid, virtually eliminating the possibility of pinching or tearing.
10 Year Warranty
The superior design and strength of the Drain-Net\'s grease interceptor allows us to guarantee that this product will not peel, rust or warp.
Flow Control Device (FCD)
The Flow Control is an integral component of the Drain-Net's design. Flow controls regulate the flow and improve separation efficiency, however they are prone to plugging and frequent maintenance. The Drain-Net Flow Control with Cleanout Lid provides quick access to the flow control plate, in case of blockage. External flow control makes cover removal unnecessary when clearing blockage at the flow control plate, keeping odors contained.
Versatile Connections
With No Hub connections, Drain-Net's compact grease trap can be installed in environments with various metal and plastic piping materials through the use of Mechanical Joint couplings.
---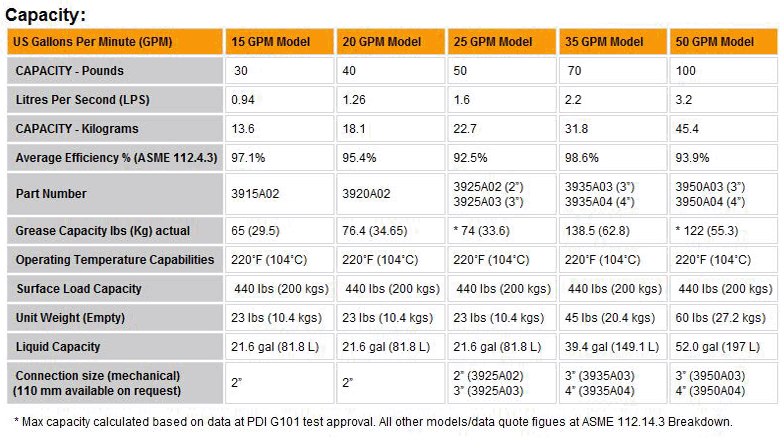 Grease Trap Sizing
Not sure what grease trap size you need? View our grease trap sizing chart here.