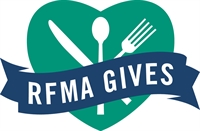 RFMA Gives
Our industry gives us so much so we are giving back through RFMA Gives. With our first project completed in 2011, each year we select a charitable shelter or kitchen that's in need of repairs or remodeling. We pool the talents and resources of RFMA members and share them with the chosen non-profit food service organization to make a significant difference in their ability to serve the community.
RFMA Gives 2018 Project Announced
RFMA is humbled and pleased to announce our RFMA Gives 2018 site is The Salvation Army Adult Rehabilitation Center located in Phoenix, Arizona. After visiting several wonderful organizations in the Phoenix area, The Salvation Army was chosen because of its great fit with the RFMA Gives mission. The Center's mission is to provide holistic work-therapy, group and individual counseling, life skill development, and spiritual direction for their residents to abandon substance reliance. They help their clients combat their addictions, build their work and social skills needed to re-enter the workforce, regain health and stability, and restore families that have been disrupted. The Salvation Army Adult Rehabilitation Center is 100% self-funded through their five area thrift stores they operate in the greater Phoenix area. They receive no dollars from their parent organization.