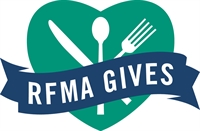 RFMA Gives
Our industry gives us so much so we are giving back through RFMA Gives.
RFMA Gives 2024 in Fredrick
After researching and visiting several potential project partners within the Washington, DC area, RFMA is pleased and excited to announce our RFMA Gives 2024 project partner is Wells House located in Frederick, MD! To help us keep the project moving we have enlisted two project co-chairs, Dale Moore, CRFP with Northstar Painting and Michael Hess with 1-2-3 Equipment Solutions. We are thankful that Dale and Michael have volunteered their time and talents for this project and look forward to working with them.
RFMA Gives 2023 in San Antonio
Our RFMA Gives 2023 project was another huge success. RFMA would like to sincerely thank everyone who has donated their time, equipment, services and funds to our project recipient, Southside Community Center (SSCC) in San Marcos, TX. SSCC's goal is to meet the needs of the individuals and families of Hays county by helping find resources for proper medical care, food, and shelter. Learn more about Southside Community Center of San Marcos by visiting their website. SSCC is extremely grateful for the outpouring of donations and the large impact that RFMA has been able to make within their community center and community. We also want to thank Design Service Solutions who supplied new 3-door upright cooler to our 2023 project. Don't miss our April/May issue of Facilitator which will feature our 2023 RFMA Gives project on the cover.
RFMA Gives 2022 in Nashville
RFMA selected Community Care Fellowship in Nashville, TN as our RFMA Gives 2022 recipient. Our 2022 project co-chairs were Shane Brock, CRFP, from Cracker Barrel Old Country Store and Stew Morrow from DSS, LLC. Community Care Fellowship's mission is to "serve Christ by providing families and individuals who are at risk of chronic homelessness and poverty with hope, love, and resources so that they may experience physical, emotional, and spiritual transformation". They address hunger and hygiene, along with counseling or other social services. Click here to learn more about Community Care Fellowship. Thank you to all our RFMA members who volunteered their time and talents to leave a lasting impact at Community Care Fellowship!